Soccer 7's - Wednesdays - Columbia (Winter) (Archived)
Program Description
SOLD OUT FOR TEAMS, SOLD OUT FOR FREE AGENTS 11/6/17
FOR THE WINTER SEASON, WE ARE ONLY TAKING 8 TEAMS DUE TO A GROUP HAVING THE FIELD UNTIL AFTER 6 PM.
November 8th is the Regular and Team Deadline. Teams need to have 11 Players with the Gender Requirements met by this Date. Teams will begin having Free Agents Added to them or will be merged with other Small Teams beginning November 9th.
Read Below For League Details: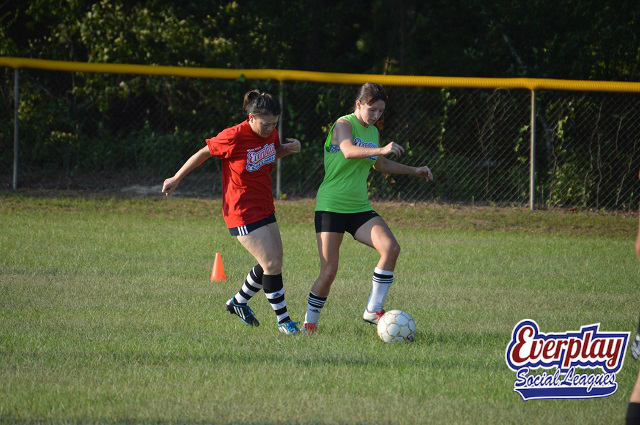 No Games December 27th (Holidays)
Wednesday Co-Ed Soccer! Two 20 minutes halves with Game Times at either 6:40, 7:30, 8:20, or 9:10.
This league features:
Sign up by yourself, with a group of friends or whole team
Co-ed, over-21 play
7 Scheduled Games + Playoffs for Top 5 Teams
Winners will receive Free Beer and Money donated to a Charity of their Choice.
Everplay Sport & Social Club T-Shirt (Your Uniform for the Season)

1 Independent Referees (No Player Reffing!)

All Players, who play in any game(s), MUST be registered with that individual League, have paid the League Fee, and have signed our Online Waiver to Participate in ALL Everplay Sport & Social Club Sports! If "illegal players" are found, there are gameplay penalties. (See League Rules)
Sponsor Bar - Please Drink Responsibly!
Moriartys Irish Pub - 902 Gervais Street, Columbia, SC 29201
LEAGUE SPECIALS
$2.00 Bud Light Drafts & Michelob Ultra Bottles, $5 Double Hot Dog and Fries Special.
Drinking at City of Columbia, Lexington County, or Richland County Parks or Facilities is Illegal.
Program Details
Format:
Co-Rec
Official Rules:
Soccer Rules
Location:
Columbia - Pacific Park
Registration Dates:

Now — Nov 8, '17 Regular & Team Deadline

Nov 9, '17 — Dec 13, '17 Captain's Invite Only (Late)

Max Teams:
10
Team Roster:
11 Players Minimum, at least 4 of each gender. No Maximum.
First Game Date:
Wednesday, November 29, 2017
Last Game Date:
Wednesday, January 31, 2018
Postseason Format:
Top 5 teams
Individual Price:

Regular & Team Deadline

$55.00

Captain's Invite Only (Late)

$60.00 (See Refund Policy)
Team Price:

Regular & Team Deadline

$55.00 per person

Captain's Invite Only (Late)

$60.00 per person (See Refund Policy)